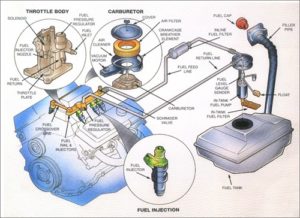 The most important part of any electronic fuel injection system is the electric fuel pump. In the article, we have taken a look at this very important system. In most vehicles, the fuel pump could be found somewhere around the fuel tank or in some cases, inside it. No matter where it is located, it performs two basic functions;
Movement of fuel to the injectors from the tank
Ensures that the appropriate volume of fuel is delivered by the injectors at all times by allowing sufficient pressure
Every vehicle manufacturer have specified requirement and it is important that the fuel pump develops enough pressure to meet these requirements, otherwise it will impair the performance of the engine and its emissions. Depending on the type of injection system built into the vehicle, the pressure required in each will be different.
An example of this assertion can be found in some models of BMW with BOSCH Motronic. The amount of pressure needed by these types of injection system will be about 55 to 61 psi i.e (3.8 to 4.2 BAR). On some other models however, the same car might only need 43 psi (3.0 BAR). Although these appear like similar pressure needs, but it is important to understand that the impacts of those variations on the performance of the engine are not negligible.
SHOULD YOU REALLY WORRY ABOUT FUEL FLOW AND FUEL PRESSURE?
Yes, you should! As a matter of fact, when your BMW fuel pump does not meet the least required pressure, you may experience serious issues with the vehicle's overall performance. When a fuel pump is unable to produce the needed pressure, the fuel system calibration of the vehicle could be disrupted. When this happens, a lot of issues can creep up such as the engine running lean and poor idle quality might also be experienced, among others.
Another effect of low pressure is a surge in hydrocarbon emissions. Usually when this happens, it will be practically impossible for this kind of vehicle to scale through an emission test. For cars manufactured in 1996 or later, the indicators on the instrument cluster of the dashboard could be triggered when there is not sufficient pressure. This is because such cars are have on-board diagnostics OBD II.
So in order to keep the performance of the engine at optimal level, defective fuel pumps must be replaced with the ones that meet BMW OE fuel performance specifications, such as Bosch pumps. It is important to be careful not to risk buying a fuel pump that is not compatible in order not to destroy the injection system.
FUELS PUMPS DO FAIL AND HERE IS WHY
It is a normal procedure for electric fuel pumps after years of continuous usage to begin to show signs of wear, especially around the armature bushings. Other areas that can deteriorate are rollers and pump vanes. All these could easily lead to pressure being lost. Another development that could lead to to a quick wear of the fuel pump is when sediments move beyond the inlet filter shock. Usually, these sediments would contaminate the pump and cause it to heat excessively and wear out.
As a BMW car user, you should know that the fuel pump of your vehicle lubricates and cools itself with the fuel passing through it. Hence, not leaving enough fuel in your tank is a sure way to destroy it.
HOW TO DIAGNOSE YOUR BMW FUEL PUMP
Your fuel pump could could stop working without necessarily wearing out, if this happens, the culprit could be the electrical connections, so you should have it checked. Anything from a disconnected wire to a blown fuse for instance could prevent it from working. Aside this, the capacity of the pump to create pressure ca also be impaired by a low battery voltage.
The functionality of the fuel pump could be ascertained by two standard diagnostic tests which are; measurement of static output pressure and fuel delivery. In order to measure the static pressure, the gauge by the fuel rail is used. If the pressure is not up to what the manufacturer recommended, that is an indication that it needs to be changed. The fuel flow on the other hand can be determined when the fuel supply line is disconnected and the pump is energized. If the check valve of the pump is unable to hold residual pressure, it is also another indication that the pump has to be replaced.
WANT TO REPLACE YOUR BMW FUEL PUMP? HERE ARE THE THINGS YOU SHOULD KNOW
One of the most important considerations in choosing your a replacement for your BMW fuel pump is that it must meet all BMW OE performance specifications. In addition to this, the pump has to meet other requirements such as the make, model. year and engine size of your BMW. One of the most reliable brands you can buy that meet all these specifications is the Bosch pump. As pioneers of the technology that produced fuel injection, Bosch pumps are not only reliable but also durable.
There are many after-market pumps having fuel delivery rates that are lower that manufacturer's requirement for your BMW, while others manufacture fuel pumps whose sizes are different from the original, so it is better to stay away from them.
IMPLICATIONS OF INAPPROPRIATE FUEL PUMPS
As you must have seen, choosing a one-size-fits-all fuel pump could have serious implications on the performance of your BMW. The most damning implication is insufficiency of fuel delivery. Despite the OE performance requirements specified by the manufacturer, a lot of available after-market fuel pumps fall short of the requirements. Even for those who try to meet the application of a particular vehicle, they fall short of the vehicle's fuel need in all conditions.
The implication of this is that the engine does not get enough fuel. There is also the danger of very poor fuel economy and engine misfire and total loss of power. Such pumps running below specified capacity are likely going to run very hot and wear off faster than expected. Apart from these obvious performance issues, an inappropriate fuel pump can also cause problems during installations, especially with this fuel gauge, it can also disrupt the entire working process of the vehicle's fuel system. To save yourself from the potential problem of damaging your vehicle's system, Bosch pumps are your best bet. They have the same specifications has the original manufacturer recommended pumps.
To buttress Bosch's market leadership, the pumps are perfectly designed to prevent water from corroding the pump and its components. The pumps are also made in such a way to fit perfectly.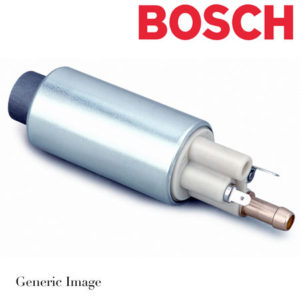 Bosch vs Reman Pumps
A lot of car owners fail to realize the extent of damage they are causing to their vehicles by patronizing manufacturers of substandard and re-manufactured fuel pumps. In order to attract patronage, these manufacturers always place a price below market price on their pumps. Apart from the fact that re-manufactured pumps do not meet OE specifications, many of them were also found to have retained the previous carbon brushes and commutators. On the long run, vehicle owners who purchase these kinds of pumps end up compromising the reliability and efficiency of their vehicles. Bosch pump are the ideal alternatives.
As pioneers of fuel injection, Bosch is the natural market leader. Since developing the first fuel injection system in 1967, they have gone on to manufacture over 250 different fuel pumps. They are also the leading suppliers to renowned brands like Alfa Romeo, BMW, Chrysler, Fiat, Porsche, Rolls Royce, Toyota, Volvo and many others. With superior technology, no fuel pump manufacturer comes close to Bosch.
In order to cater to different types of needs, Bosch manufactures 3 different types of fuel pumps such as turbine, roller cell and inner gear. So no matter what your vehicle manufacturer recommends, you will always find your fit.
Advantages of Bosch Fuel Pumps
Value for money and durability. Bosch pumps have been tested in over 50 million vehicles around the world, so you are not taking any risk. This is a trusted brand
Bosch fuel pumps are brand new. Unlike some manufacturers who put re-manufactured pumps in the market, Bosch pumps and its components are totally new and never used before
Top quality and modern technology combines to give you the best value for your money. With Bosch electric fuel pumps, you can be sure to have a pump that not only meets your manufacturer requirement but one that also exceeds it.
Functions just like the original. No installation problems and no after installation issues
THESE INSTALLATION TIPS ARE VERY IMPORTANT
When installing a new pump in your BMW, please pay attention to these;
1. Irrespective of where the tank is mounted, internal or external, always ensure that the tank is cleaned to remove any rust. These makes your new pump work well,
2. Disconnect the battery to guard against possible spark.
3. Ensure that the filter screen is replaced
4. Ensure that fuel has been added to the tank before attempting to run the pump